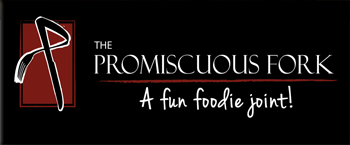 What They're Saying
The Promiscuous Fork is one of the 10 Best Things To Do In La Jolla!

The Promiscuous Fork is mentioned as one of San Diego's coolest restaurants!
The Promiscuous Fork announces a new location openning in Pacific Beach in early 2014!
"Whenever the Promiscuous Fork is in charge of the catering, you know it will be a fabulously fun, ton-notch event! The food quality is excellent; the recipes & seasonings are unique & absolutely delicious. The presentations are beautiful and the staff is professional and engaging. The only difficulty is keeping yourself from eating too much and trying to pick your favorite thing to eat. It's hard to choose! Use this company if you want a memorable event and have lots of compliments."
Cathryn Golden, CPO,CFSC,CGLC
Owner, Balanced Environments
"I had the pleasure of going to a recent networking event and the Promiscous fork was the caterer. They did a great job with the entire event from set up to the array of delicious foods. The smell really made you hungry and I was not dissapointed when I bit into everything I tried. The staff was amazing to work with too. They seemed very comfortable and could melt into any type of setting they were in. I'm very happy I now have a caterer I can turn to for my special events. And I should also mention, the prices were really affordable too. In this economy, that goes a long way! Thanks again!!"
Bobby Martins
Realtor