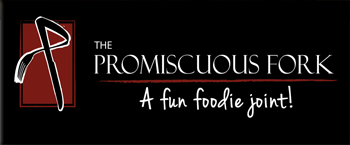 About The Promiscuous Fork
When Ray Penfield and Craig Sewall met in 2006, they began talking and realized they both shared the same passion for good food, great friends and a passion for entertaining.
They instantly connected and as their friendship grew, so did the idea of entertaining for other people.
Laughing and joking one night after dinner, Craig mentioned how his wife Ana would always take her fork with her around the table and "sample" everyone's plate. Suddenly a spark went off in their heads, that's how entertaining should be! Fun Food with an unpretentious attitude toward sharing and interacting, and thus The Promiscuous Fork was created.
Our menu style is simple, fresh ingredients combined to excite the palate and bring a new spin on some old favorites. Our menu items continue to expand and evolve, while we seek out new & fun ways to ENTERTAIN YOUR TASTE BUDS!
Have more questions, or want to get a hold of us? Head on over to our Contact Page!